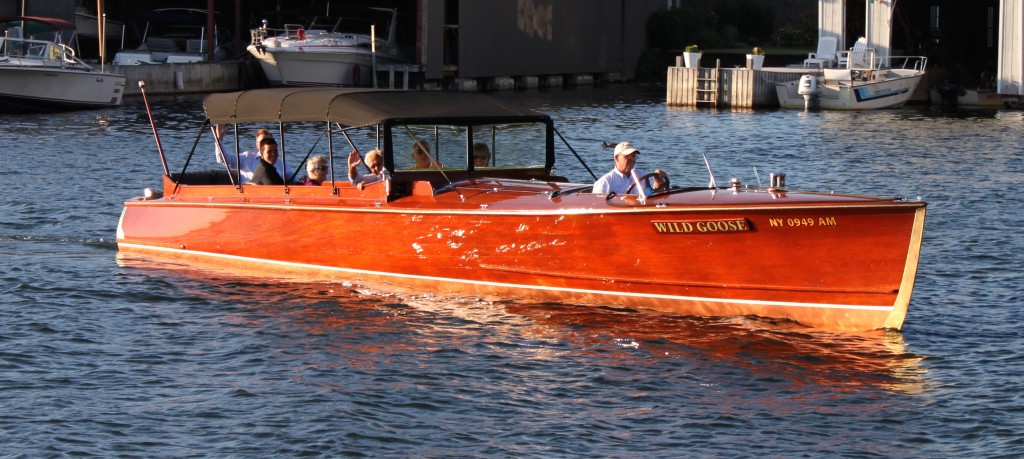 Year: 1915
Length: 40′
Beam: 7′
Builder: Hutchinson Boat Works
Power: Chrysler V-8
Donors: Joan Dodge Rueckert and Cleveland E. Dodge, Jr.
Accession Number: 2001.666
If Wild Goose has a familiar silhouette, it may be because she has been an ambassador for the Antique Boat Museum as the boat in the ABM logo for over 30 years. She was built by the Hutchinson Brothers boat yard in Alexandria Bay, NY in 1915 as a high-speed launch for island commuting. Her original owner, Frederick Lovejoy, named her Onondaga III and used her to ferry passengers to and from his home in Westminster Park on Wellesley Island. Onondaga III was a very fast boat for her time, with 40' of waterline and only 7' in beam, powered by a 150 HP Sterling engine.
In 1928 the boat was purchased by Cleveland E. Dodge of Grindstone Island and Wild Goose Island and renamed Wild Goose. For over seventy years she served as a family launch for the Dodge family, who loved and carefully maintained the boat throughout its life. The open forward cockpit was added in 1938 to make the boat easier to manage. This addition also lends Wild Goose a limousine-like appearance.
In 1991, the boat was completely restored and led the Parade of Boats at the annual Antique Boat Show here at the Museum. She was restored again between 2011 and 2012, reuniting with the River on June 30, 2012.