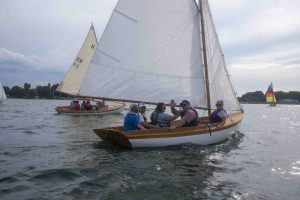 This 3-night hands-on class aims to teach the basics of sailing or refresh individuals on sailing techniques. The class is aimed at individuals/adults aged 15+ and families looking to get into the sport of sailing. This class will primarily utilize our antique wooden boats and the C420s.
Students must be able to board and disembark from small craft under their own power.
For families looking to register together, contact Molly Voth at 315.686.4104 ext. 225 or mvoth@abm.org.
Ages: 15+
Cost*: $150 non-members | $135 members
*Tuition pricing does not include 6% registration fee charged by FareHarbor.
Goal: Learning to sail antique wooden sailboats
2023 SCHEDULE
Session 1: July 5-7, 2023 | 5:00-7:30pm
Session 2: July 26-28, 2023 | 5:00-7:30pm
Questions? Contact Molly Voth at mvoth@abm.org or 315-686-4104 ext. 225.