The Antique Boat Museum offers free activities on a regular basis that allow visitors to become engrossed in the rich tradition of small craft along the St. Lawrence River, click below to learn more!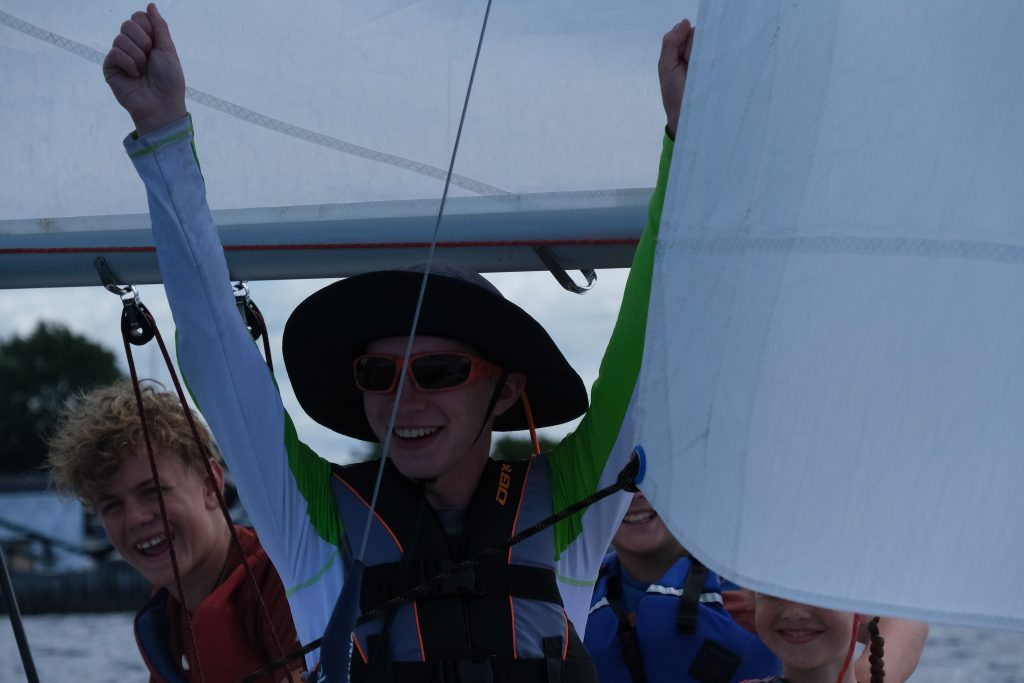 Row a Skiff or Kayak (included with general admission)
We encourage our visitors to have an authentic St. Lawrence experience by testing out some traditional skiffs, super-lightweight canoes or more modern kayaks out on the water! Located in the Fred Thomas Skiff Livery inside the Small Craft Building, this opportunity is included as part of your general admission, or is free for everyone on Tuesday nights (see Community Sailing Night below).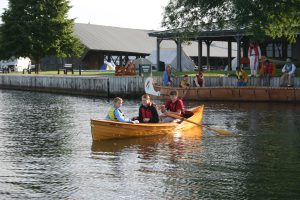 Our small craft vary in size: our lightest canoe weighs 12 lbs. and our St. Lawrence River skiffs reach up to 120 lbs. Exploring the Museum you might see pictures of 6-12 men on a traditional skiff but 1-3 people per skiff is the recommended crew.
We ask that those who would like to participate, be physically able to get in and out of the boats. Waterfront Crew will be on hand to instruct and assist anyone who wants to go out.
The Skiff Livery is open from June 26th -August 30th: weekdays: 12pm – 4pm and weekends: 10am – 4pm.
Weekly Community Sailing Night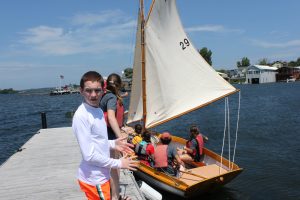 Join us to experience sailing and rowing on the St. Lawrence River! If you have no sailing or rowing experience, this activity is a perfect way to spend the evening as we have plenty of experienced staff and volunteers to take you out on a 30-minute sailboat ride.
Beginning in the ABM Tent on June 27th, this will be a weekly event that runs from 5:30pm-7:30pm and will stop on August 30th. While the Museum buildings will be closed, the campus will remain open via the sliding gate next to the Mary Street Dock.
In the event of inclement weather on Tuesday nights, the rain date will be held the following day on Wednesday. Postponement decisions will be posted to our social media accounts or please call the Museum if you would like to know about the Community Sailing status.
Sail for a Slice (registration required)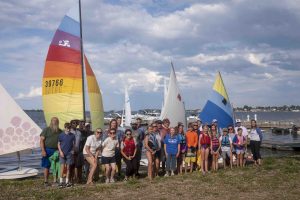 Join us for an evening sail across French Creek Bay to the Clayton Yacht Club for a pizza dinner.
August 16 | 4:30-7:00pm date may change.
Due to the high popularity of last year's Sail for a Slice, registration is required prior to the event.
Like Free Donuts? Come join us while we row to the Clayton Yacht Club for some donuts and coffee! Have your own skiff, kayak, canoe or small craft? Bring it to the Museum and join us for the row!
The museum has a wide range of small crafts available for those who would like to join.
Date: August 5 | 7:00am meet at Skiff Livery
Please note that all on-water programs are weather-dependent.
To register or ask questions, please contact Museum Educator, Molly Voth at mvoth@abm.org or 315.686.4104 ext. 225.