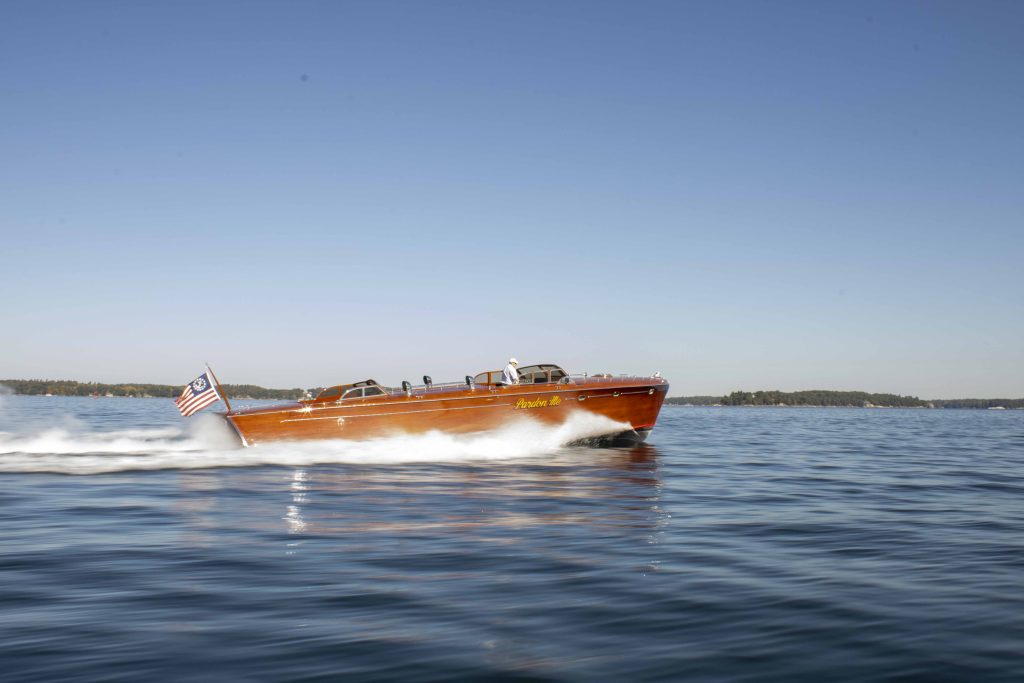 Pardon Me (1948)
Length: 48′
Beam: 10′ 6″
Designer: John L. Hacker
Builder: Hutchinson Boat Works
Donor: Jim and Tony Lewis
Accession Number: 1986.021
Few pleasure boats have ever been more aptly-named than Pardon Me. Her design was commissioned by Charles P. Lyon, a wealthy sportsman and owner of several other large custom boats who spent his summers on Oak Island. Hacker had previously designed for him the express commuters Finesse and Vamoose. Lyon intended Pardon Me to be his ultimate boat and selected the well-regarded firm, Hutchinson Boat Works of Alexandria Bay, to build his new vessel.
Sometimes called "the world's largest runabout," Pardon Me is a fascinating study in yacht design. From a distance, she can appear to be an almost regular-sized triple cockpit runabout. Up close though, one can truly grasp her magnificent proportions. Though primarily a day boat for short pleasure trips, she also boasts a galley, enclosed head, and sleeping accommodations below decks.
It takes some power to move this much boat through the water and Pardon Me was powered by a World War II-era 1500 HP supercharged Packard PT boat engine, which used nearly 100 gallons of high-octane fuel per hour.
Learn more about Pardon Me:
We do not know who first gave Pardon Me the nickname "the world's largest runabout," but it is easy to see why it stuck. Near the end of the era of this particular style of wooden speedboats, Pardon Me is perhaps the most powerful expression of the runabout form. Since it's construction began at Hutchinson Boat Works in 1947, Pardon Me has garnered much admiration and praise as well as being owned by vibrant and influential people from all around the country.
John Hacker, who drew the boat in 1947 for Charles Lyon of Chippewa Bay, NY was one of the innovators who developed the hard-chine, split-cockpit pleasure boat in the early 1920s. In the 1930s and 1940s, Hacker was one the world's most famous designers of custom powerboats and small yachts, with an impressive portfolio of very successful boats and a distinctive personal style.
Pardon Me is a late great work from one of America's most important naval architects. Designed for beauty as well as performance, the boat incorporates period trends in industrial design and architecture, making it a representative object for American art history as well as boating.
The custom speedboat has played an important role in the evolution of boating technology and aesthetics. Commissions from men like Charlie Lyon allowed American designers and craftsmen to think big and achieve the highest levels of their craft, producing superlative boats. Such boats were an important part of Lyon's life from childhood on but at age 75, Pardon Me was to be his last big powerboat. Hacker himself was 69 when he began drawing her, with forty years of experience. Although Pardon Me was an influential boat and certain design elements such as the rounded nose would remain popular into the late 1950s, it is in fact the product of an earlier culture of power boating. After the war, there was a decrease in custom runabouts and commuters like Pardon Me, while American consumers favored mass-manufactured boats of all sizes.
The realization of a boat like Pardon Me requires a great deal of input from the owner, the designer, and the builder. In the case of Pardon Me, the processes of conception, design, and construction were unusually collaborative due to a demanding schedule.
Work began at Hutchinson Boat Works as soon as preliminary sheets arrived from John Hacker in 1947, with delivery expected by the following summer. Hutchinson had the experience in construction and structural engineering to fill in the gaps and even improve upon Hacker's specifications. Charlie Lyon himself, from whom the initial concept must have come, was also personally involved in the systems design of the boat. This makes Pardon Me not only the work of John Hacker, but of the famous Hutchinson Boat Works, and one of the Thousand Islands' most prominent boaters.
Although this is one of the grandest and most important custom boats ever built, when it was launched on Labor Day, 1948, it did not perform as designed. During one initial test run, the boat took a violent lurch to one side that pitched mechanic Fred Barker headlong into the engine compartment. The small maneuvering engine designed by Charlie Lyon himself proved ineffective, and docking with the big Packard was very challenging. After only half a dozen rides, Lyon decided to pass the project on to another owner and put the boat up for sale in September 1948. Years later Charlie's sister-in-law, Margaret Griffin, remarked "He got his thrill and then it was over. Actually, I think he had more fun watching it being built." Over the past six decades, a series of owners have tinkered with the boat to bring it up to the level performance that John Hacker had envisioned for it.
In 1950, Pardon Me was purchased for $12,000 by Michigan industrialist Dick Locke, another patron of John Hacker's custom powerboats. Locke renamed it Lockpat III and added more chrome trim to the boat, expanding on the original streamlined appearance. Despite some experimentation with a new cooling system, the full potential of the giant craft was still not realized and Locke never used the boat extensively. He clearly valued it however, and refused to sell the boat until he was on his deathbed in 1976. The buyer was Nick Beck, a colorful young businessman who had admired the boat since childhood. Beck wanted to get more use out of it, and after burning up the original engine he decided an extensive overhaul was called for. At the Mayea Boat Works in Fairhaven, MI, Beck installed a factory-new Packard 4M-2500 and a revised cooling system. He also changed out the hydraulic shifting system for a mechanical linkage which allowed for greater control, but could only be operated from the engine hatch, out of reach of the helm. Beck brought the boat back to the St. Lawrence in 1983, to the great appreciation of the River community and surviving members of the Lyon family, who got to ride in the boat once again.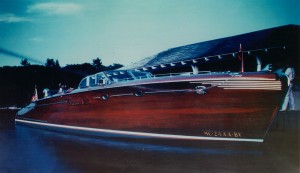 Pardon Me next went to Florida, where it was purchased by Jim and Tony Lewis, who were among the founders of this Museum. They donated the boat in 1986. The Museum has run Pardon Me several seasons since then, and it is still a challenging craft to operate and maintain. As part of the 2012 restoration, the engine was overhauled and some systems such as cooling and ignition updated. Like the rest of the In-Water Fleet, Pardon Me requires regular maintenance to keep her in a condition to be enjoyed by generations to come. Such an interesting project attracts talented engineers, mechanics, and craftsmen, who are eager to participate and add to our years of experience with the boat.
For local River families like the Lyons of Chippewa Bay, an island commuter is an opportunity for luxury and self-expression, as well as recreation. When Charles Lyon commissioned Pardon Me from John Hacker in 1947, it was the last in a series of elaborate and recognizable vessels which conveyed the family to and from their property on Oak Island. These were signature vessels for the Lyons, recognizable up and down the River.
Speed was always important to the Lyons, even in large boats. Captain David H. Lyon, a steamship captain from Ogdensburg, NY was active in boat racing at the Thousand Islands Yacht Club in the early 1900s with his kerosene- powered 55' canopy launch Carmencita. Limited records also suggest that he was the most successful driver of the one-design motorboat class, or "Number Boats". D.H. Lyon also had a 60' steam yacht called Outing, and another 40' launch called Majella.
The Lyons had many boats over the years, but perhaps the most famous in its time was Vamoose, designed by John Hacker and built by Fitzgerald & Lee of Alexandria Bay, NY in 1936. D.H. Lyon's son Charles was a legendary figure among the Islands, an expansive character who lived an unapologetically extravagant lifestyle. Known to some as the "King of the St. Lawrence" or the "Roaring Lyon," Charlie Lyon was an avid boater under sail and motor power.
The Lyon family still remembers Vamoose as the favorite in the fleet- it was beautiful, fast, and responsive. Charlie often used the boat to convey guests between Oak Island and Ogdensburg. She was built to replace Finesse, another Hacker design built by Fitzgerald & Lee in 1934, which burned at a boat race in 1935.
Though only two years apart, these two boats were very different in style, reflecting the evolution of Hacker designs toward more modern, streamlined craft in the mid-1930s. Powered by twin 250 HP Hall-Scott Invaders, Vamoose was capable of over 40 mph.
At the outbreak of WWII, Charlie offered the boat to the US Navy and it served as a patrol craft on the Atlantic coast. At the close of the war the Navy offered to return the boat, but it was in poor condition. Rather than pay for restoration, Charlie decided to build a new boat. Characteristically seizing the opportunity for an upgrade, he contacted John Hacker again to design what would become Pardon Me.