Important Changes to the 56th Annual Boat Show & Auction
Due to COVID-19, the 56th Annual Boat Show & Auction will not look the same as past shows.  The following are the highlights of the reimagined Show:
Parade around the Islands at 8am and 5pm on Saturday, August 1st.  Any antique and classic boats in the region, and those able to come from outside the North Country are invited to join us.  Route and viewing spots/times to be announced.

US waters and boaters only at this time.  If possible at the time the event is held, it will open to Canadian boats and waters.
Boaters/Boats are welcome to join at any point along the route.
We invite you to make the outing a day in Clayton by visiting our local restaurants and shops between cruises.
A limited number of slips will be available for participating boats to dock at ABM on August 1st.  Please let Caitlin Playle (315.686.4104 ext. 236 or caitlinplayle@abm.org) know if you are interested or require dock space at ABM.

Virtual Boat Show Program! No registration fee.  Submit your boat, motor, Marketplace business or Amphicar.
 Virtual Auction! More information to be announced.
FREE Museum Admission August 1st-2nd!
Share your story or stories about boating, your or another boat, boatbuilder, boat restorer, etc!  Stories will be included in the Virtual Boat Show Program or future printed materials.
To read the full press release, click here.
ALL MATERIALS FOR THE VIRTUAL BOAT SHOW PROGRAM MUST BE SUBMITTED BY JULY 13TH!
Please note: The Antique Boat Museum reserves the right to use editorial discretion in the materials used for the Virtual Boat Show. Not all of the materials submitted may be used. Any video footage submitted will be edited for best display in the Virtual Boat Show Program.
Questions? Contact Caitlin Playle at caitlinplayle@abm.org or 315.686.4104 ext. 236.
For questions about Marketplace, please contact Sandy Squire at sandysquire@abm.org or 315.686.4104 ext. 250.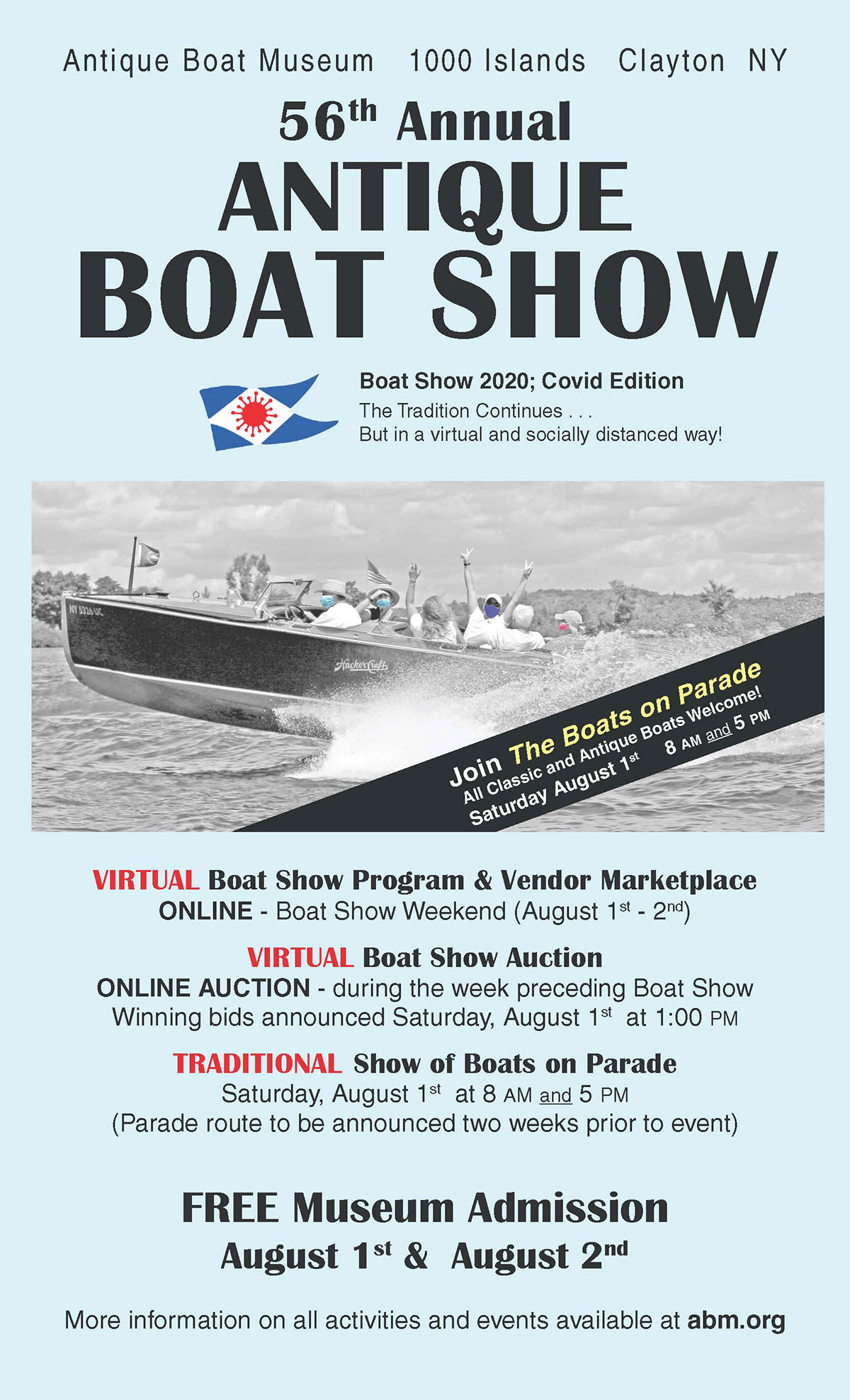 ---
Join us August 6-8, 2021 for the 57th Annual Antique Boat Show & Auction!
Celebrating: Boats in the 1000 Islands, ACBS Guest Chapter Manotick Classic Boat Club, and the Best on the River and Queen of the River.
Boat Show Video 2014