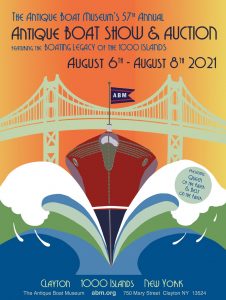 Join us for the 57th Annual Antique Boat Show & Auction!
Celebrating the Boating Legacy of the 1000 Islands and the Best on the River and Queen of the River.
Click here for the 2021 Judging Guidelines
Click here to submit photos and/or video of your entry
Note: State and federal COVID-19 guidelines for events are reviewed monthly. All aspects of the Boat Show are being planned, assessed regularly, and changed as needed to ensure compliance with these guidelines. Receptions and concessions will be subject to any restrictions in place and may not be held.
Click here to download the PDF Exhibitor's Registration Form
Click here to download the PDF Amphicar Registration Form
Everyone exhibiting in-person at the 57th Annual Antique Boat Show will have their entry info and image (if available) included in the Digital Program. We invite those who can't join us in person to be a part of the 57th Annual Antique Boat Show via the Digital Program. Digital Program only entries will be eligible for People's Choice and other non-ACBS awards given at the Show.  Check out a mock-up of the Digital Program with examples of all types of pages (entries, Marketplace, and advertising) below.
Questions? Contact Caitlin Playle at caitlinplayle@abm.org or 315.686.4104 ext. 236.
---
Share your story or stories about boating, your or another boat, boatbuilder, boat restorer, etc!  Stories will be included in the Virtual Boat Show Program or future printed materials.
Please note: The Antique Boat Museum reserves the right to use editorial discretion in the materials used for the Virtual Boat Show. Not all of the materials submitted may be used. Any video footage submitted will be edited for best display in the Virtual Boat Show Program.
Boat Show Video 2014