View The Making Of Pardon Me | View The Restoration Of Pardon Me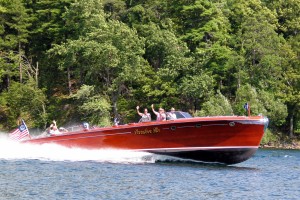 Date: 1948
Length: 48′
Beam: 10′ 6″
Designer: John L. Hacker
Builder: Hutchinson Boat Works
Donor: Jim and Tony Lewis
Accession Number: 1986.021

The Museum decided to send Pardon Me to an outside contractor with a reputation for restoring high-quality yachts and sailboats. While we would have preferred to complete the work in-house, the Brooklin Boat Yard in Maine has the knowledge and ability to design and install Pardon Me's complex mechanical systems. She returned to Clayton in October 2013, fully restored and ready for launching.
Few pleasure boats have ever been more aptly-named than Pardon Me. Her design was commissioned by Charles P. Lyon, a wealthy sportsman and owner of several other large custom boats who spent his summers on Oak Island. Hacker had previously designed for him the express commuters Finesse and Vamoose. Lyon intended Pardon Me to be his ultimate boat and selected the well-regarded firm, Hutchinson Boat Works of Alexandria Bay, to build his new vessel.
Sometimes called "the world's largest runabout," Pardon Me is a fascinating study in yacht design. From a distance, she can appear to be an almost regular-sized triple cockpit runabout. Up close though, one can truly grasp her magnificent proportions. Though primarily a day boat for short pleasure trips, she also boasts a galley, enclosed head, and sleeping accommodations below decks.
It takes some power to move this much boat through the water and Pardon Me was powered by a World War II-era 1500 HP supercharged Packard PT boat engine, which used nearly 100 gallons of high-octane fuel per hour.