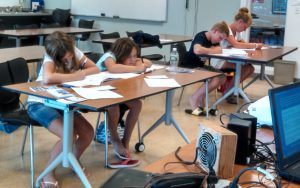 NYup.com – 13 things you need to know about NY's new boater safety law
"New York's new boating safety law, called Brianna's Law, will require that all operators of motorized craft – regardless of age – have boating safety courses under their belts by 2025. An exception, though, is those who are renting boats. If you are at least 18 years old, you may rent without completing a course. The livery should demonstrate how to properly use the boat before renting it, however. Persons under the age of 18 may only rent a motorboat if they hold a safety certificate."
The Antique Boat Museum is proud to continue its long-standing partnership with the United States Coast Guard Auxiliary by offering multiple Boater Safety courses throughout the summer season. The USCG Auxiliary's course is accepted by New York and many other states that require certification to operate motorized pleasure craft.
Please note:
While this course is offered by the United States Coast Guard Auxiliary, registration with the Antique Boat Museum is required to be added to the roster.
Study materials are included in tuition but students should bring their own writing utensils and notebooks. Meals are not provided.
Weekday evening courses take place outside of the Museum's regular operating hours. For this reason, only registered students will be permitted in campus buildings or on the grounds while class is taking place.
Questions? Contact Amanda Dudley: amandadudley@abm.org or 315-686-4104 x225.
2020 Boater Safety Dates:
The class scheduled for May 4-5 has been cancelled due to our delayed opening.
Saturday, June 20 | 9:00am-5:00pm
Tuesday, June 30 & Wednesday, July 1 | 5:00pm-9:00pm
Tuesday, July 14 & Wednesday, July 15 | 5:00pm-9:00pm
Tuesday, August 4 & Wednesday, August 5 | 5:00pm-9:00pm
Tuesday, August 18 & Wednesday, August 19 | 5:00pm-9:00pm
Tuition: $35