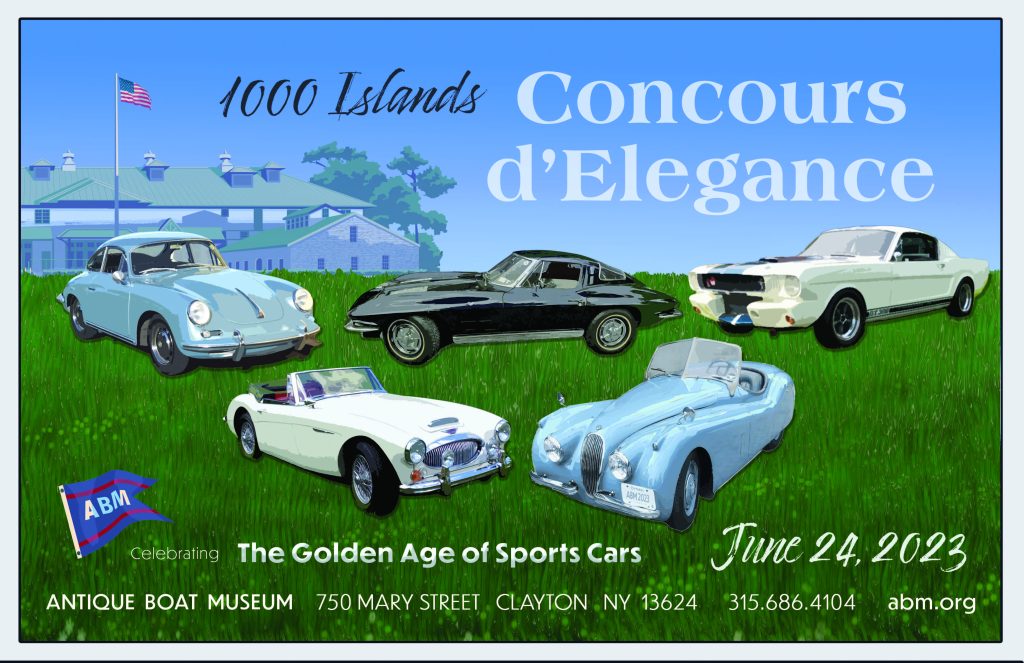 Join us June 24th to celebrate
The Golden Age of Sports Cars
Corvette – Ferrari – Jaguar – Aston Martin – Cobra – Morgan – Porsche – Austin Healey
Celebrating 70 years of the Corvette
To register online for the Show click here or download the form and return it to Caitlin Playle by email at caitlinplayle@abm.org or mail at 750 Mary St, Clayton, NY 13624. All cars entered for judging MUST be pre-registered and approved by June 9th. All entries are reviewed by the Concours Co-Chairs prior to acceptance to ensure Concours show quality.
NEW: Two registration rates (Show Only and Boat Ride Package).
We're very excited to bring Boat Show's popular Youth Judging to the 1000 Islands Concours d'Elegance! Developed and sponsored by Hagerty, the Youth Judging Program brings the world of classics to youth primarily aged 8-14. A popular activity at Boat Show, Youth Judges will be guided through the show's field as a group to pre-selected boats and interact with the owners, allowing the judges to learn details, history, and fun facts about each before scoring them and selecting a first, second, and third place winner. Interested in being a Youth Judge? Click here to sign up.
What is the 1000 Islands Concours d'Elegance?
The 1000 Island Concours d'Elegance is a judged show for European and British Sports, Touring, and Grand Touring cars from the 1950s-70s. Earlier cars are welcome along with later European Exotics. In addition, American and Japanese Sports Cars from the 1950-70s, such as Corvette, Camaro, Corvair, Mustang, T Bird, Datsun 240Z, 1600, 2000, Mazda RX7, and the Toyota Celica and Supra are welcome. Modified cars may be accepted if the cars are modified in a road race – Watkins Glen style and the modifications are period correct. ¼ mile or pro street cars are not eligible for the Concours, but are invited to participate in the morning Cars and Coffee. The Concours' Chairpersons ultimately make the final decision on a car's acceptance.
*Regular Admission Rates Apply for the Concours. Cars & Coffee on the southside of campus is free.
Questions? Contact Caitlin Playle, Events & Communications Coordinator at caitlinplayle@abm.org or 315.686.4104 ext. 236.