This slideshow requires JavaScript.
Profile on Chelsi of Chelsi Jane Co. Chelsi is a past ABM Bride and current wedding and event planner with the experience and impeccable taste needed to create anyone's perfect day. Learn more about Chelsi and her ABM wedding below.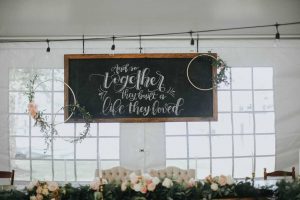 I decided to start this business with the idea of creating beautiful moments for people. After getting married in the 1000 Islands region three years ago, I have had a desire to continue to execute weddings for others. I've helped family and friends since then, creating special days through styling, coordinating, and planning. After continuing to bring these beautiful events to life I was encouraged and supported by those who know me well to start doing this for others. I offer everything a Bride might need help with, and with an added bonus of already being married at the Antique Boat Museum, I know what to expect for coordinating and styling.
I was born and raised on the banks of the St. Lawrence River. My parents actually owned a cottage across the harbor from ABM. When we were younger we would sit out on the dock and listen to the music drift across the bay from the many weddings every summer. I always thought it was magical watching the lights dance across the water carrying the sounds of music and laughter with it. I am honored to be a part of those weddings now as a planner bringing to life those very same moments for others. I can assist with anything day or week of the event. For my own wedding, I ran into the hurdle of needing a chaos coordinator because I realized you can't do it all on your own wedding day, and you shouldn't have to. Now, I want to be that for other brides. To help wherever they may need it most.
Q: What was your favorite part of your wedding day?
My favorite part about our wedding day actually wasn't the wedding itself. Which isn't to say it wasn't everything we planned. Our team was absolutely amazing in bringing to life exactly what I had imagined for that day! My favorite moment of the whole event was walking to the end of the dock with my new husband and sitting down on the edge with our feet hanging over-like we used to when we dated at the cottage across the bay. We sat in silence witnessing our family and friends all in one place for what would only happen once in our whole lives. Sitting there watching the lights dance on the river, the stars reflected in the waves, the laughter, the music, my new husband's hand in mine, it still gives me goosebumps thinking about it. It was perfection and my absolute favorite full-circle moment.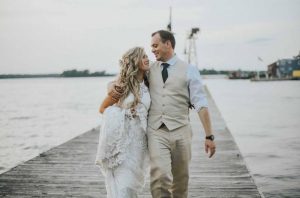 Q: What was your favorite spot for pictures on campus?
Our favorite spot to take pictures on the ABM campus was by far the long dock that is in the front of the harbor and has the osprey nest at the end! We also started our processional line from here after exiting the boat we rented to bring us to our ceremony! I don't know the exact name of it but it's also the same dock we had our favorite moment on, too. However, all of our family photos were taken on the Gaffney Porch and they are stunning so I guess that's a favorite as well? I can't pick just one!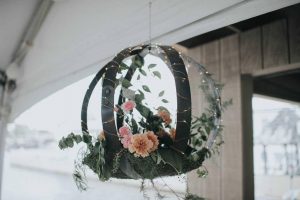 Q: What is something you wish you knew about outdoor weddings before having one?
I wish I had known then what I know now- always keep the weather in mind for obvious reasons. We had to plan for a rain delay with tents but those also helped keep our guests and vendors cool on the hot August day! Keep your ceremony short if you are choosing not to have it under some shade in the middle of the summer! Your guests and bridal party will thank you.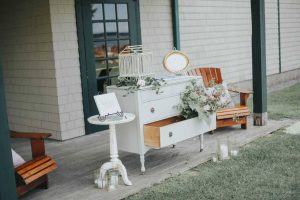 Q: Do you have any tips for future ABM brides?
I could give those future ABM brides tips on two things. Firstly, in the end, make it about you and your partner. When it comes to picking a flower out or a theme, go with what speaks to you both and your story to how you got to this exact moment. Make it special in your own way. Secondly, be VERY clear to your vendors with what YOU are expecting on your day! We really love it when you get picky, it helps us to know what you are envisioning! I had a vendor meeting and wrote up a whole 18-page manual for everyone that described down to the candle votive who was doing what, which made everyone's job day-of easier. Everyone will say your day will fly by in the blink of an eye. My wish for you is that you get to sit on the end of the dock with your new lifelong partner and witness what a beautiful day it truly was.
Vendors:
Rentals: Amazing Occasions
Details & Styling: Pretty Little Vintage Co. 
Flowers: Primrose Hill Co.
Photographer: Courtney Thomas Photography
Cake & Dessert: Sweets Lorraine
Catering: Jeff Garnsey
Music: Travis Rocco