Participants enrolled in this course will learn to paint a 1000 Islands river scene on a wooden paddle in the tradition of Gilded Age souvenir paddles.  Each student will draw their own river scene and then transfer that image to the paddle.  Using acrylic paints, students will then begin with painting the background areas and finish the paddle with foreground and finer details.  All ma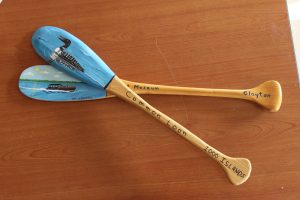 terials will be supplied and by the end of the class students will leave with their own unique work of art.
Instructor: John Miller III, Thousand Islands Picture Paddles
Date: August 5th, 9am
Ages: 10 & Up. Children under 13 must have adult present.
Tuition: Members $20 | Non-Members $25
Questions? Contact Molly Voth, Museum Educator: mvoth@abm.org or 315-686-4104 ext. 225.