The Antique Boat Museum was excited to reintroduce our lecture series in 2021! Spanning all four seasons and a range of topics, we hope to be able to bring local history and boating life to you throughout the year whether you are with us in the 1000 Islands or far away and missing the River.
Note: Our off-season lectures will be held in a hybrid in-person/virtual format.  If you are unable to join us in-person, we invite you to join us via Youtube live stream.  The live stream link for each lecture can be found below.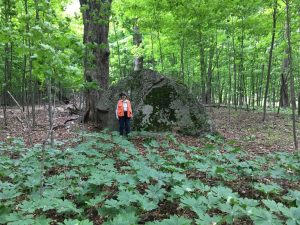 Geology and People of the St. Lawrence
Dr. Laurie Rush, Cultural Resources Manager and Army Archaeologist – Ft. Drum
December 2 | 5:30pm
Youtube Live Stream link: https://youtu.be/VVBzf3nfiG0
From glaciers to quarries, geology has shaped the human presence in our region from the very first people to the communities of today.  From places for Indigenous gatherings to quarries for the Island castles, the earth beneath us helps to define the interaction of people with the landscape.  Dr. Rush will discuss how the complex geology of the St. Lawrence and its tributaries has influenced communities, gatherings, settlement, and industry, past and present.
Past Lectures:
October 28, 2022: Understanding the ecological role of wetlands in a changing river: Protecting and monitoring wetland fish habitat in the Thousands Islands with Thornton Ritz, SUNY ESF PhD Student (watch the recording of this lecture here)
August 12, 2022: The Katie Eccles and the Final Years of Sail on Lake Ontario with Ben Ioset, Texas A&M Anthropologist
June 18, 2022: Inextricably Connected: John Henry Rushton and Slipstream Watercraft with Slipstream Founders Stan & Cathy Zdunek
September 1, 2021: The Wind in the Willows by Kenneth Grahame & The Wind in the Islands by Scott Ouderkirk
July 15, 2021: Boys in the Boat by Daniel James Brown
January 28, 2021: Shipwrecks of the 1000 Islands with Dennis & Kathi McCarthy
The Homer L. Dodge Lecture Series is funded by the Homer L. Dodge Endowment which funds programming that promotes, celebrates, and teaches topics focused on the history and ecology of the St. Lawrence River.