The Antique Boat Museum was excited to reintroduce our lecture series in 2021! Spanning all four seasons and a range of topics, we hope to be able to bring local history and boating life to you throughout the year whether you are with us in the 1000 Islands or far away and missing the River.
The Katie Eccles and the Final Years of Sail on Lake Ontario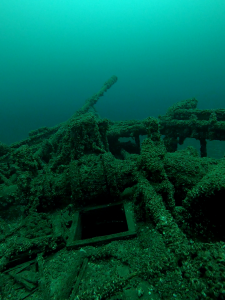 Ben Ioset, Texas A&M Anthropologist
August 12 | 5:30pm
In June 2019, a team of nautical archaeologists from Texas A&M University surveyed and documented the wreck of the Katie Eccles, a two-masted schooner lost off Prince Edward County in November 1922. In this talk, we will hear about the schooner's history, and the significance of the Eccles within the wider history of the decline of commercial sail on the Great Lakes in the early-20th century.
Past Lectures:
June 18, 2022: Inextricably Connected: John Henry Rushton and Slipstream Watercraft with Slipstream Founders Stan & Cathy Zdunek
September 1, 2021: The Wind in the Willows by Kenneth Grahame & The Wind in the Islands by Scott Ouderkirk
July 15, 2021: Boys in the Boat by Daniel James Brown
January 28, 2021: Shipwrecks of the 1000 Islands with Dennis & Kathi McCarthy
The Homer L. Dodge Lecture Series is funded by the Homer L. Dodge Endowment which funds programming that promotes, celebrates, and teaches topics focused on the history and ecology of the St. Lawrence River.