Being a Good Steward to Your Family Photos

Do you leave your irreplaceable photos at your cottage year after year?  Or are they sitting in a box in your attic or basement?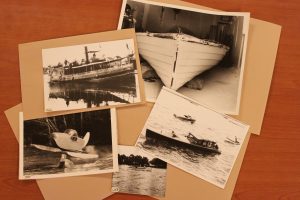 Photographs provide a very important visual connection to our ancestors, but our history can fade away without the proper care of these images.  In this presentation led by a professional photographic preservationist, the discussion will focus on the factors that can affect your photos and how to prevent damage.  Siobhan will have suggested books on hand for further reading, along with handouts on preservation suppliers, photo editing software, and other general info on the topic.  Bring a notebook and some old photos of your own to share and ask questions about.
This program will also include a behind-the-scenes tour of the Antique Boat Museum's vast library and archives. Hear an overview of ABM's digitization project, which has facilitated public access to previously unavailable photographs and holdings.
This program is jointly sponsored by the Thousand Islands Arts Center.
TBD
Presenter: Siobhan Creem
Price: $31.50 for members, $35 non-members
4 min / 20 max