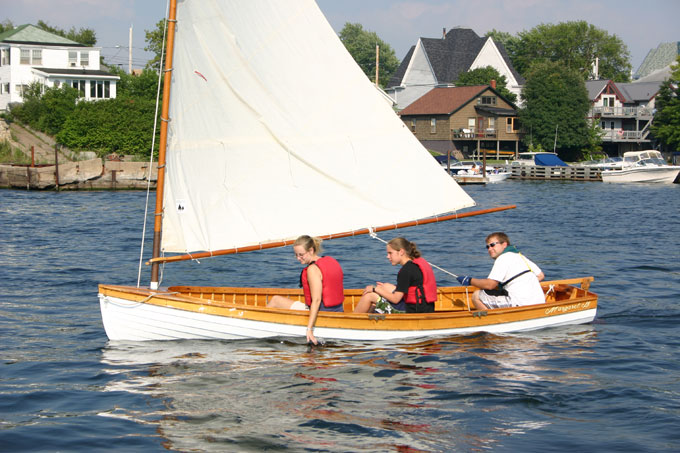 Come Learn With Us!
Whether you are six or sixty, new to the River or have spent every summer here since you were born, we've got something for you and your family to explore, make or try. Learn to sail, improve your navigational skills and knowledge and take your knot-tying or boatbuilding abilities to the next level. There are a lot of fascinating learning opportunities at the Antique Boat Museum.
All courses have a low instructor-student ratio and are on our beautiful waterfront campus or the St. Lawrence River itself. New classes are constantly being posted throughout the year so please check back often! We look forward to seeing you in class.

How to Register
Pre-registration is required for all programs and payment is required at the time of registration unless otherwise noted.
Scholarships are available for select programs; please call the Museum to inquire.
Museum Members and Friends of the Museum receive discounts on most programming.
Discounts do not apply to any Safe Boating or Captain School courses.
In the event that you need to cancel your class registration, we are happy to offer full refunds to those who cancel 4 weeks or more in advance. Between 2 and 4 weeks before the start of the course, you will receive a credit toward a future course. Credit will be good for one year from the cancellation date. If you cancel within 2 weeks of the class, we regret that we cannot refund or transfer your payment.
To contact the Antique Boat Museum's Education Department, call 315.686.4104 x225 or email amandadudley@abm.org
2019 Education Schedule
Boat Shop
ABM-ACBS Symposium – held annually on the third weekend in May
Build Your Own Stand-Up Paddleboard – Autumn 2019 (TBA)
Marine Engine Maintenance – TBA
Paddle Making – July 14
Stain-Matching and Varnishing – September 14-15
Operator of Uninspected Passenger Vessels (OUPV) – November 2019, February-March 2020 (TBA)
Masters Upgrade – November 2019, February-March 2020 (TBA)
Towing Endorsement – November 2019, February-March 2020 (TBA)
Maritime Arts
Knot Tying – workshops offered at the Festival of Oar, Paddle & Sail and the Antique Boat Show & Auction
Paddle Painting – August 2
Safe Boating
Sailing – classes held late June through mid-August
Destination Rows

French Creek Wildlife Management Area – July 4
Aunt Jane's Bay on Grindstone Island – July 18

Row 4 Donuts – July 13 and August 4
St. Lawrence Skiffs 101 – late June through mid-August
Youth Programs