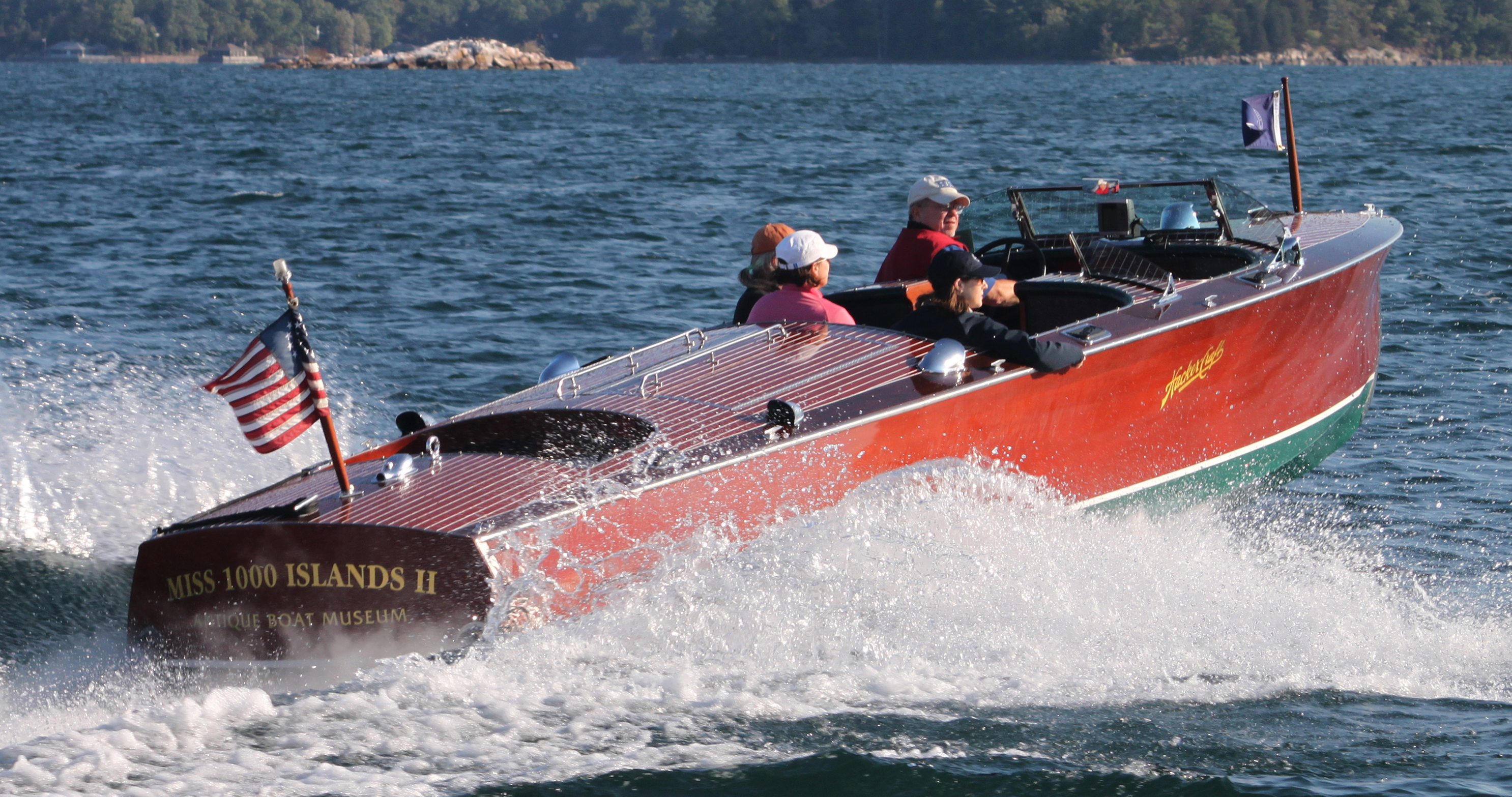 Miss 1000 Islands III (2005)
Length: 30′
Beam: 7'3″
Builder: Hacker Boat Company
Power: Mercury 8.1L, 385 HP
Few boats say "1000 Islands" more than the mahogany runabout. This truly American type was popularized in the early years of the 20th century by designers such as Gar Wood, Chris Smith and John Hacker, who created boats that went fast and looked good.
In the early 1980s Morgan Marine on Lake George purchased the rights to the legendary Hacker name and began building new boats from original designs. The Hacker Boat Company carries on with this tradition at their shop in upstate New York.  Hacker Craft is one of the most recognizable names amongst wooden boats today and it is the Museum's pleasure to share the experience of riding in a boat such as this one.

Teal (1989)
Length: 28′
Beam: 7'2″
Builder: Gar Wood Custom Boats
Power: 1996 454 GMC OMC Marine Conversion
Donor: Richard Munro
Accession Number: 1995.013
Gar Wood Custom Boats, owned by the Turcotte brothers of Brant Lake, NY, are among the finest craftsmen now building mahogany runabouts to traditional designs, in their case by the legendary Gar Wood. Their faithful reproductions utilize the original lines enhanced by wood-epoxy construction techniques and modern power plants.
Teal is designed after Gar Wood's 1938 triple-cockpit runabout. Annual maintenance on Teal is generously provided by Gar Wood Custom Boats.


Zipper (1974)
Length: 41′ 6″
Beam: 10′ 6″
Builder: Staudacher Yacht Company
Power: Twin Crusader V-8's
Donor: Louise S. Stroh
Accession Number: 1985.018
Zipper was designed for the Purdy Boat Company. Though drawn in the 1930s, the boat was never built. In 1974, brewery magnate John W. Stroh finally commissioned Staudacher Yachts to build her. While remaining faithful to the original design, Staudacher utilized modern construction methods and gave Zipper a strong, "screwed and glued" double-planked hull with vertically-scarfed mahogany planking on steam-bent oak frames. Zipper is a commuter yacht, emblematic of a type from the 1920s and 30s.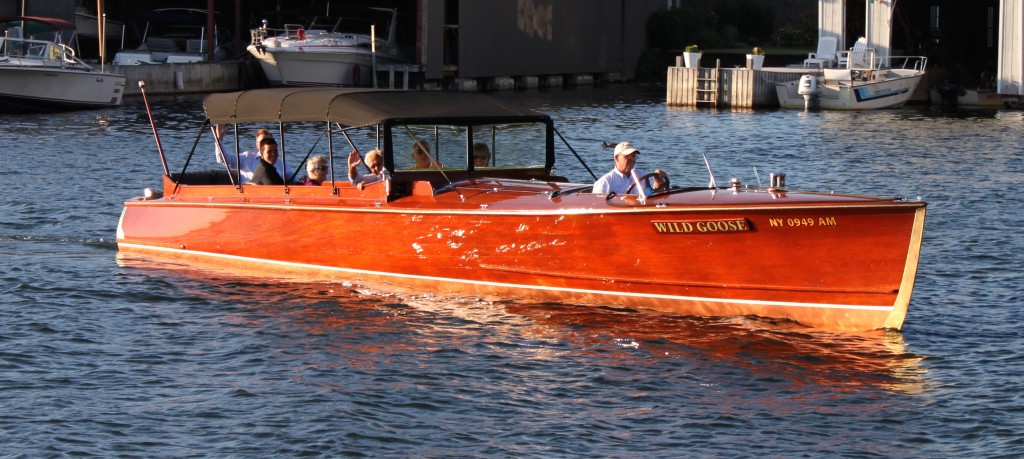 Wild Goose (1915)
Length: 40′
Beam: 7′
Builder: Hutchinson Boat Works
Power: Chrysler V-8
Donors: Cleveland E. Dodge, Jr. and Joan Dodge Rueckert
Accession Number: 2001.666
If Wild Goose has a familiar silhouette, it may be because she has been an ambassador for the Antique Boat Museum as the boat in the ABM logo for nearly 20 years. She was built by the Hutchinson Brothers boat yard in Alexandria Bay, NY in 1915 as a high-speed launch for island commuting. Her original owner, Frederick Lovejoy, named her Onondaga III and used her to ferry passengers to and from his home in Westminster Park on Wellesley Island. The Onondaga III was a very fast boat for her time, with 40' of waterline and only 7' in beam, powered by a 150 HP Sterling engine.
In 1928 the boat was purchased by Cleveland E. Dodge of Grindstone Island and Wild Goose Island and renamed Wild Goose. For eighty years she has served as a family launch for the Dodge family, who have loved and carefully maintained the boat throughout its life. The open forward cockpit was added in 1938 to make the boat easier to manage. This addition also lends the Wild Goose a limousine-like appearance.
In 1991, the boat was completely restored and led the Parade of Boats at the annual Antique Boat show here at the Museum. She was restored again between 2011 and 2012, reuniting with the River on June 30, 2012.

Gadfly (1931)
Length: 33′ 6″
Beam: 8′ 6″
Builder: Hutchinson Boat Works
Donor: Margaret H. Wallace
Accession Number: 1994.003
Built in Alexandria Bay by Hutchinson Boat Works, Gadfly spent her early years in the Thousand Islands before being moved to Michigan. This sedan commuter returned to the River in 1994 when she was donated to the Museum. As part of the Museum's in-water fleet she has provided hundreds of Museum patrons with the opportunity to enjoy traveling on the River in the secure comfort that is the embodiment of her style. She has been a favorite vessel for day trips around the River and longer excursions to Ottawa and Montreal. Her large planing hull seems to disguise the cruising speed that swiftly propels this grand boat to her destination. Whether her passengers choose her snug cabin or prefer her large open aft cockpit, Gadfly is a superb craft with comfortable accommodations.