The Cleveland E. Dodge Launch Building displays some of the most notable powered pleasure boats, including a steam launch, the only working naptha engine in existence, runabouts, and cruisers that have put the Antique Boat Museum on the map. The new installation of "The National Motor Boat Show" highlights the evolution of boating as a pastime in North America through the lens of a period boating trade show.
Boating is a great North American pastime, and the evolution of recreational motor boats in the 20th century has transformed our waterscape. Boats connect people to the water and to the natural world, and power boats offer great freedom of movement and the thrill of speed.
A new activity in 1900, by 1950 motor boating was an important cultural marker, and remains so today. Central to the growth of this industry were large, aspirational trade shows, where the public came to explore what motor boating was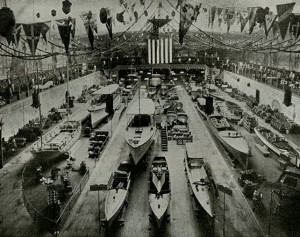 all about. The largest of these was the National Motor Boat Show, begun in New York City in 1905 and still held every year. More than earlier ways of boating by sail and oar, motor boating was a facet of modernism, a celebration of personal freedom and opulence through technology.
Steam yachts in the mid-1900s were the first recreational powerboats, but scale and complexity restricted them to a wealthy elite. Smaller, simpler power plants evolved in the 1880s, and by the early 1900s the gasoline engine brought power boating within reach of many more people. Soon an industry sprang up to sell motor boats through standardization and advertising. This new industry faced the challenge of educating the public about boating, as well as pushing brand selection. Trade shows such as the National Motorboat Show were created to give manufacturers a forum to display their new products and educate interested consumers. These shows were aspirational and lavishly decorated, inviting people to take part in a new and glamorous activity.