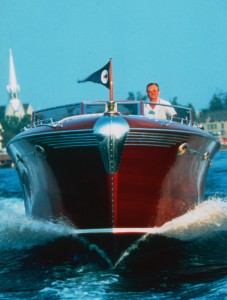 Although this is one of the grandest and most important custom boats ever built, when it was launched on Labor Day, 1948, it did not perform as designed. During one initial test run, the boat took a violent lurch to one side that pitched mechanic Fred Barker headlong into the engine compartment. The small maneuvering engine designed by Charlie Lyon himself proved ineffective, and docking with the big Packard was very challenging. After only half a dozen rides, Lyon decided to pass the project on to another owner and put the boat up for sale in September 1948. Years later Charlie's sister-in-law, Margaret Griffin, remarked "He got his thrill and then it was over. Actually, I think he had more fun watching it being built." Over the past six decades, a series of owners have tinkered with the boat to bring it up to the level performance that John Hacker had envisioned for it.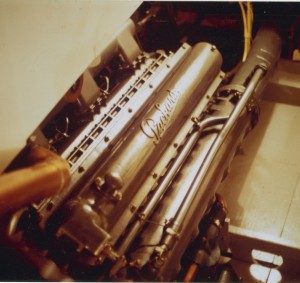 In 1950, Pardon Me was purchased for $12,000 by Michigan industrialist Dick Locke, another patron of John Hacker's custom powerboats. Locke renamed it Lockpat III and added more chrome trim to the boat, expanding on the original streamlined appearance. Despite some experimentation with a new cooling system, the full potential of the giant craft was still not realized and Locke never used the boat extensively. He clearly valued it however, and refused to sell the boat until he was on his deathbed in 1976. The buyer was Nick Beck, a colorful young businessman who had admired the boat since childhood. Beck wanted to get more use out of it, and after burning up the original engine he decided an extensive overhaul was called for. At the Mayea Boat Works in Fairhaven, MI, Beck installed a factory-new Packard 4M-2500 and a revised cooling system. He also changed out the hydraulic shifting system for a mechanical linkage which allowed for greater control, but could only be operated from the engine hatch, out of reach of the helm. Beck brought the boat back to the St. Lawrence in 1983, to the great appreciation of the River community and surviving members of the Lyon family, who got to ride in the boat once again.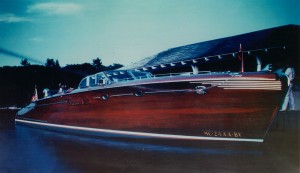 Pardon Me next went to Florida, where it was purchased by Jim and Tony Lewis, who were among the founders of this Museum. They donated the boat in 1986. The Museum has run Pardon Me several seasons since then, and it is still a challenging craft to operate and maintain. As part of this restoration, the engine is being overhauled and some systems such as cooling and ignition are likely to be updated. Such an interesting project attracts talented engineers, mechanics, and craftsmen, who are eager to participate and add to our 26 years of experience with the boat.