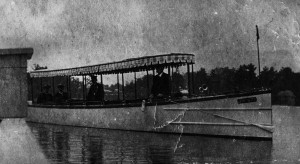 For local River families like the Lyons of Chippewa Bay, an island commuter is an opportunity for luxury and self-expression, as well as recreation. When Charles Lyon commissioned Pardon Me from John Hacker in 1947, it was the last in a series of elaborate and recognizable vessels which conveyed the family to and from their property on Oak Island. These were signature vessels for the Lyons, recognizable up and down the River.
Speed was always important to the Lyons, even in large boats. Captain David H. Lyon, a steamship captain from Ogdensburg, NY was active in boat racing at the Thousand Islands Yacht Club in the early 1900s with his kerosene- powered 55' canopy launch Carmencita. Limited records also suggest that he was the most successful driver of the one-design motorboat class, or "Number Boats". D.H. Lyon also had a 60' steam yacht called Outing, and another 40' launch called Majella.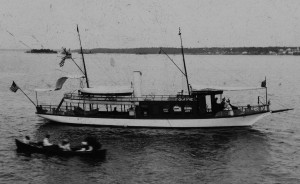 The Lyons had many boats over the years, but perhaps the most famous in its time was Vamoose, designed by John Hacker and built by Fitzgerald & Lee of Alexandria Bay, NY in 1936. D.H. Lyon's son Charles was a legendary figure among the Islands, an expansive character who lived an unapologetically extravagant lifestyle. Known to some as the "King of the St. Lawrence" or the "Roaring Lyon," Charlie Lyon was an avid boater under sail and motor power.
The Lyon family still remembers Vamoose as the favorite in the fleet- it was beautiful, fast, and responsive. Charlie often used the boat to convey guests between Oak Island and Ogdensburg. She was built to replace Finesse, another Hacker design built by Fitzgerald & Lee in 1934, which burned at a boat race in 1935.
Though only two years apart, these two boats were very different in style, reflecting the evolution of Hacker designs toward more modern, streamlined craft in the mid-1930s. Powered by twin 250 HP Hall-Scott Invaders, Vamoose was capable of over 40 mph.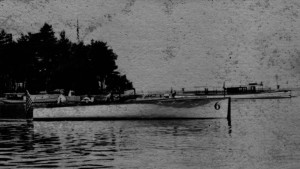 At the outbreak of WWII, Charlie offered the boat to the US Navy and it served as a patrol craft on the Atlantic coast. At the close of the war the Navy offered to return the boat, but it was in poor condition. Rather than pay for restoration, Charlie decided to build a new boat. Characteristically seizing the opportunity for an upgrade, he contacted John Hacker again to design what would become Pardon Me.