River Rat Days are a series of interactive workshops and field trips for children aged 4-12. Each River Rat Day will feature a new session focusing on a different theme which will help children learn more about the rich history of the St. Lawrence River and the Thousand Islands.  To register, download the ABM Course Registration Form and mail it back to us with your payment.  Please indicate which session you want on your form.
Below are the River Rat Days sessions featured in 2017; 2018 information TBA.
Students will be introduced to boats which provide valuable service to the River communities.  Included are visits to the Clayton Fire boat and the work boats at Seaway Marine Group.  Come see the boats and meet the crews.
Class Limit: 10 students
Tuition:  $32 members / $35 non-members
Winter Life on the St. Lawrence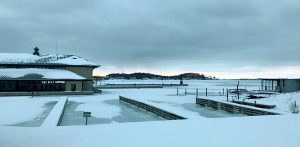 Learn what winter life was like on the St. Lawrence River in the days of yore.  Climb aboard an ABM boat for a trip to Calumet Island and a visit to one of the few existing ice houses on the River.  Hear the Island caretaker talk about the fun and the hardships of winter on an island.
Class Limit: 10 students
Tuition:  $32 members / $35 non-members