Want something fun and creative to do with your family or friends?  Build the perfect beginner's project the "Cottage Skiff." We provide everything needed for the course including hands-on help every step of the way. Your fam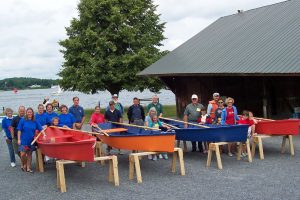 ily will launch and row your completed boat the last day of class. Must register by Monday, June 19.  The Howland Scholarship is available to one group; call the Education Department for more information.
July 9 -14, 9:00 a.m. – 5:00 p.m.
Tuition: $1475
To register, download theABM Course Registration Form (PDF Format) and mail it back to us with your payment. Questions? Contact Deb Rantanen: drantanen@abm.org or 315-686-4104 x235.
Instructor: Dick Warner and ABM Volunteers