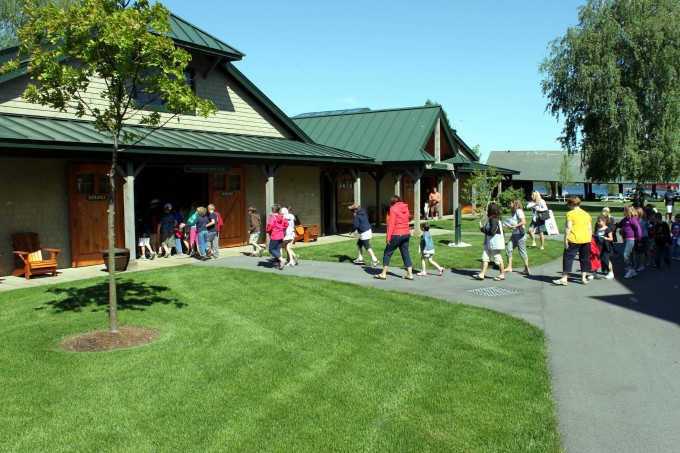 Field Trips
Field trips at the Antique Boat Museum are tailored to each group with a variety of activity options. Options include:
Guided tour of the Museum exhibits and collections
Nautical-themed art project and lesson
Rowing a St. Lawrence skiff
Scavenger hunts
Self-guided exploration
Cost: Please contact the Educator at drantanen@abm.org for information about fees.
Chaperone Policy: One adult is required for every 10 students. Chaperones are required to stay with their group at all times and are responsible for the safety and behavior of all students. Chaperones receive free admission to the Museum during the field trip.
Lunch: There is no restaurant on our campus so please bring a bagged lunch. We have picnic tables and seating available under our tent as well as in the Education Center.
Group Size: 60 students maximum per visit
Weather: Tours run rain or shine. Please dress for the weather and wear comfortable walking shoes. Skiff rides are weather dependent.
Sample Day:
Group A= 15 students
Group B= 15 students
Arrival: 9:30am
Group A:
10:00-11:30 Scavenger Hunt through Museum
11:30-12:30 Lunch
12:20- 1:30 Row a skiff
1:30-2:00 Craft Project
Group B:
10:00-11:00 Row a skiff
11:00-11:30 Craft Project
11:30-12:30 Lunch
12:30-2:00 Scavenger Hunt through Museum
Book your school class, scout pack, and children's group field trip by emailing ABM's educator, Debra Rantanen, at drantanen@abm.org. If there are any access or special needs of the group please let us know, we want you to have a wonderful experience.
In School
Teachers' Resources
The Antique Boat Museum's River Curriculum Outreach Program has a wealth of material to lend teachers for use in their classrooms to enhance the learning experiences of students Museum educators can bring a lesson to the students in school or drop off supplies and curriculum for the teachers to use at their convenience. Teachers may also contact the Museum to borrow images from our photograph collection, selected artifacts and books, or boating related items.
Activities include:
Canvas River Murals

Grades K-1
Cost $20 per class
Creating Habitats

Grades K-2
Cost $20 per class
Map Reading and Using Compasses
Buoyancy and Water Displacement

Grades 1-5
Cost $20 per class
Building a St. Lawrence Skiff Model

Grades 4-6
Cost Contact Museum Educator

Simple Machines

Grades 4-8
Cost Contact Museum Educator
All Activities Free for partner schools
Group Size: 30 students maximum per program.
To contact the Museum Education Department, email drantanen@abm.org