Decorative Knot Tying
Are you all thumbs when it comes to knots?  This introductory course will teach the most common maritime knots, as well as some decorative knots. The morning class is for children; the afternoon is for teens and adults. Participants will walk away with a completed project.
Session 1:  August 10, 10:00 – 12:00 p.m. (ages 8-12)
Session 2:  August 10, 2:00 – 4:00 p.m. (ages 12+)
Tuition:  $15 members / $20 non-members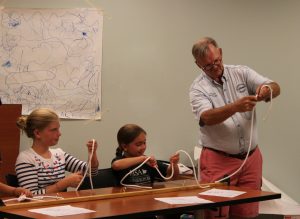 To register, download the ABM Course Registration Form (PDF Format) and mail it back to us with your payment. Questions? Contact Deb Rantanen: drantanen@abm.org or 315-686-4104 x235.